Land Rover is a car brand that specialises in four-wheel-drive vehicles, owned by British multinational car manufacturer Jaguar Land Rover, which is in turn owned by India's Tata Motors since 2008.
The Land Rover name was originally used by the Rover Company for the Land Rover Series, launched in 1948. It developed into a brand encompassing a range of four-wheel-drive models, including the Defender, Discovery, Freelander, Range Rover, Range Rover Sport and Range Rover Evoque. Land Rovers are currently assembled in the company's Halewood and Solihull plants, with research and development taking place at the Gaydon and Whitley engineering centres.
Land Rover sold 194,000 vehicles worldwide in 2009.Land Rovers (the Series/Defender models) are available in a variety of body styles, from a simple canvas-topped pick-up truck to a twelve-seat fully trimmed station wagon. Both Land Rover and out-of-house contractors have offered conversions and adaptations to the basic vehicle, such as fire engines, excavators, 'cherry picker' hydraulic platforms, ambulances, snowploughs, and six-wheel-drive versions, as well as one-off special builds including amphibious Land Rovers and vehicles fitted with tracks instead of wheels.
In September 2013 Jaguar Land Rover announced plans to open a 100 million GBP (160 million USD) research and development centre in the University of Warwick, Coventry to create a next generation of vehicle technologies.
Capabilities: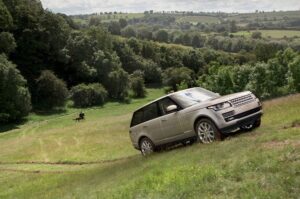 Power take-off (PTO) was integral to the Land Rover concept from 1948, enabling farm machinery and many other items to be run with the vehicle stationary. The PTO gearbox casing is bolted to the rear chassis cross-member and an 8 by 8 inches (200 mm × 200 mm) belt pulley driven from the PTO shaft through two bevel gears can be bolted to the PTO gearbox casing. PTOs remained regular options on Series I, II and III Land Rovers up to the demise of the Series Land Rover in 1985. An agricultural PTO on a Defender is possible as a special order.
An Interesting Fact:
Various Land Rover models have been used in a military capacity, most notably by the British Army and Australian Army. Modifications may include military "blackout" lights, heavy-duty suspension, uprated brakes, 24 volt electrics, convoy lights, electronic suppression of the ignition system, blackout curtains and mounts for special equipment and small arms. Dedicated military models have been produced such as the 101 Forward Control and the air-portable 1/2-ton Lightweight. Military uses include light utility vehicle, communications platform, weapon platform for recoilless rifles, Anti-tank (e.g. TOW or M40 recoilless rifle) / Surface-to-Air Guided Weapons or machine guns, ambulances and workshops.
Reconditioned Land Rover Engines: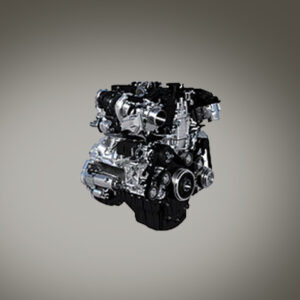 At MKL we aim to provide quality Land Rover Engines using engine reconditioning procedures. Our reconditioned Land Rover Engines are aimed to be restored closer to their original factory specifications. Because new engines are typically so expensive, reconditioned engines are considered the next best thing as they are aimed to be offered with quality and cost effectiveness in mind. As a result, reconditioned Land Rover Engines will typically be offered with a lengthy warranty. Nationwide delivery services are also available.